Mr. FOG Review: 3rd Party E-Liquid Pods for the Juul
The next generation of vaping
The world of vaping is rather convoluted, and in order to create an e-liquid that truly stands out in an ocean of competition a manufacturer has to know how its main opponent thinks. You see, the rapidly growing industry of vaping calls for not just innovation but knowledge of psychology, whereby seeing and tasting the end product is simply not enough.
When you go ahead and give an e-liquid that just came out on the market its first ever test drive, you can easily determine how well its manufacturer applied the skills of logic and creative thinking when synthesizing its compound.
Today, I wanted to discuss the up and coming legend that has gained rapid popularity. Mr Fog Pods and Disposables boast products that prove that they've scrutinized their competitor's to the tee, which begs the question: Did they hire professional psychologists from universities in order to help them understand how the world of Pods works better in order to beguile the consumer in ways never before performed?
Let's talk a little about what sets Mr. Fog apart from the rest of the vaping world.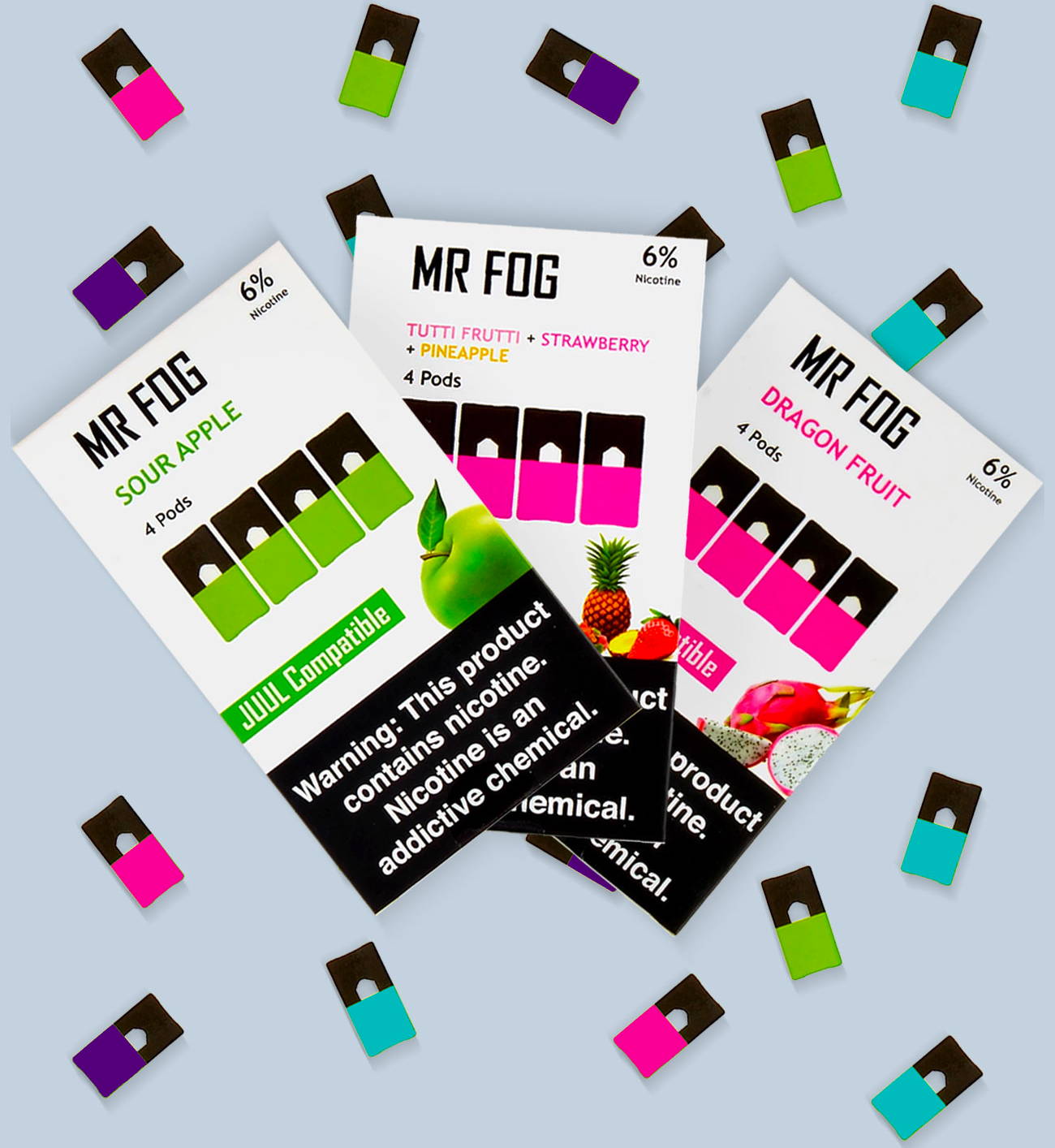 Mr FOG AND ITS GENIUS INNOVATIONS
I cannot stress enough that Mr Fog Pods are aimed at eclipsing the legend left behind by traditional Juul Pods, made by the company that currently runs over 70% of the world's vaping market. Mr. Fog has taken over the world of the medium to strong bodied SaltNic formula, coming in at 60mg in order to offer the palate a slightly stronger nicotine punch than the traditional 50mg offered by other companies that fear to transcend the medium bodied strength in order to "preserve" their clientele base.
Here is where the psychology comes in. Mr. Fog decided that they will slightly augment their nicotine potency without going overboard, providing a gently stronger kick than what everyone else is putting out just to spice up the consumer's vaping experience. Next up is the actual flavor. Mr. Fog, unlike others, focuses strictly on synthesizing e-liquid compounds that match the actual taste of the item they state their juices taste like with no compromises. They produce creamy, truly potent flavors that taste pretty much exactly the same as the fruits they emulate.
Others cannot claim such authenticity of taste because they focus too much on putting out the product and collecting the change from sales, lining their pockets with no further interest in the vape juice they have created. Lots of competitors also produce leaky Pods that fail to last their intended duration, whilst Mr. Fog makes Pods that are durable and sturdy in order to preserve their impeccable potion. But wait! Let's not get ahead of ourselves here. Just because Mr. Fog excels in positive qualities and applies totally revolutionary methods when synthesizing their Pods does not mean that they are completely devoid of faults. After all, this is a review blog and not an advertisement campaign; therefore, I went ahead and did a little testing myself to see where the pros and cons lie in reference to some of Mr. Fog's most popular options
Pros:
When I first took a few puffs, I noticed an authentic taste of pineapple as previously described. It reminded me of the pineapple juice I would order on my vacation in Mexico years ago, so it instantly brought me back to the good times of the past. After using this Juul compatible pod for a while with my Juul, I kept taking drags in attempt to see whether or not a leakage would appear; this experiment was to no avail. The pod maintained its integrity and I was happy with what I had in my hands.
Cons:
The 6% SaltNic kick appropriately managed my cravings; however, its strength was closer to being medium bodied than what strong bodied competitors offer at 68mg. Although mathematically this evaluation doesn't make sense, you cannot always put a plus and minus sign on your taste buds. For the ones that take delight in eclipsing their palates, this 6% strength may possibly not suffice.
Pros:
Once it was finally time for me to try Mr. Fog's take on the Mango flavor, I had enjoyed many of its competitors and was able to delineate the good from the bad and the ugly. Coming up with my initial few drags of Mr. Fog's tropical masterpiece, I was able to taste a flavor that was reminiscent of mango flavored candy. I state this because of its genuine creaminess and the rich vapor that I exhale following every inhalation. If Mango were my favorite flavor, I would definitely choose Mr. Fog's recipe over everyone else's.
Cons:
Mr. Fog's Mango flavored Pods taste pretty much like a real mango; however, we must not forget that there are different variations of mangoes in the world, where each one tastes slightly differently. Although I enjoy mangoes in general, some may prefer a mango taste that emulates a different species of the fruit. The con here is that the species Mr. Fog mirrors in its famous concoction, in my opinion, is definitely not the tastiest in the world. However, some may prefer a higher level of sweetness due to a stronger sweet tooth. I'm just not a fan of super sweet treats.
Pros:
Who likes watermelon for its juiciness? If you pointed at yourself, then I'm just like you. In this case, Mr. Fog didn't disappoint. With every single puff I got to experience a spirit of watermelon's juiciness, coated with sweetness that was just right in its dosed portion. As I kept puffing, I could tell the difference between the e-liquid and the real deal less and less and that made me appreciate the goodness even more.
Cons:
Although this was my favorite flavor, I did conclude that the e-juices could use slightly more watermelon hints in order to complete the formula in the face of perfection. I did previously state that Mr. Fog emulates each fruit to the tee and that is still the case; however, it is also true that some watermelons just taste sweeter and juicier than others. Let that sink in.
Pros:
With every puff, my eyesight gets better! That's my humor, but my vision of Mr. Fog's success in the future is definitely clearer. This tart flavor is underpinned by gentle sweetness that caressed my palate with every puff. I almost couldn't stop myself and my friends had to take away my Juul during the review because we were pressed on time and I had to move on to the next flavor. And one more thing, for the lovers of thick vapor and creaminess these Pods are the epitome of your preference!
Cons:
As much as I didn't want to say this, these Pods come close to the blueberry flavor. They taste more like blueberry candy. If there were an improvement Mr Fog Pods could do in the future, that would be to recreate their blueberry flavored Pods to reflect the perfect match in flavor much like their other products.
Is Mr. Fog devoid of faults? No, but I suggest that its minor shortcomings do not count. When you buy a Gucci bag and your wallet is too big to fit in the side pocket, is that a shortcoming? Think about it. Perhaps in the moment you may get upset and dissatisfied, but if you return your consciousness to the moment of purchase you will recall what the bag's originally intended functionality is. Therefore, we can reasonably infer that one's subjective perspective on the shortcoming may be deemed invalid. The same with Mr. Fog. The company is among the best without a doubt. Since I'm not here to sell the product but simply to share my experience with you, I will be honest. If you want to experience a company that has a different philosophy on the world of vaping and tastes much better than the rest of the crowd, Mr. Fog is your best bet. As for me, I'm going to go ahead and grab myself some mint flavored Pods and go to town until they run out. Keep blowing clouds, guys!
— Mr Fog
---